Twin Valley Riders is the motorcycle club for sport-touring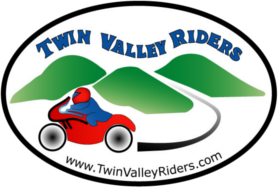 enthusiasts of the Roanoke and New River Valleys of Southwest Virginia. We are chartered as BMW-MOA Chapter 284, however, we are an all-marque club and have no requirement that members ride a particular make of bike. Our members ride everything from European and Japanese sport-tourers to vintage beauties, dual sports and everything in between. Anyone who loves to ride, whether you love scraping pegs, casually gliding… through scenic river valleys or jumping' logs and gettin' muddy, will fit right in with this bunch. Excursions tend toward moderately spirited, and invariably cover the twisty backroads and breathtaking scenery of the Appalachian Mountains.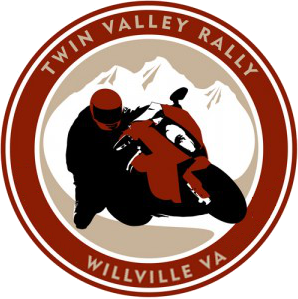 Twin Valley Riders is the proud host of the Twin Valley Rally. The first two were wonderful successes and we intend to do it again each year the third weekend in September. The rally is held at the intersection of the Blue Ridge Parkway and US Route 58 at Meadows of Dan, Virginia. The rally features guided sport-touring and dual-sport rides, bluegrass music, and fantastic camping at Willville Motorcycle Camp. We provide two delicious BBQ dinners, both smoked on site by our members; pulled pork one night and grilled chicken the other. Nightly antics around the campfire, Smores, and fresh coffee in the pavilion at daybreak each morning. Start planning now to join us in September. Registration usually late spring so keep watch and  early to ensure your place––we sold several years and expect to again.
The Roanoke and New River Valleys lie across the Eastern Continental Divide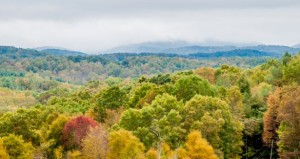 in the Ridge-and-valley portion of the Appalachians west of the Blue Ridge and east of the Allegheny Plateau. Elevations within the two watersheds range from 297′ on the upper Roanoke River to 4361′ atop Salt Pond Mountain in Giles County. The fascinating geography and mountain heritage of the middle Appalachian Mountains offer great destinations as well as some of the best motorcycling roads in the country.
Twin Valley Riders always has activities on their calendar, and always a great bunch of people to ride with. Overnight excursions, shorter and longer day trips, camp-outs, tech workshops, tire changing sessions, regular breakfasts meetings, malt therapy sessions and family appropriate social gatherings are all part of the fun
---